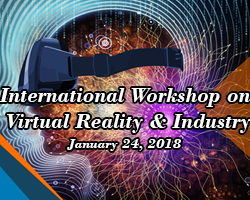 KICS is arranging a workshop on Virtual Reality and Industry to be held on 24 th January 2018 at Seminar Hall in Al-Khawarazmi Institute of Computer Science UET Lahore. It will commence from 9:30 a.m. and last till 11:00 a.m. Registration for the event is FREE, anyone can attend and the registered participants will be awarded with a certificate of participation. Michael Waite (Global Manager, STYLY Japan), Nausharwan Mir (Chief Alliance Officer, STYLY Japan) and Sayaka Sagawara (Assistant Global Manager, STYLY Japan) will be the speakers at the workshop, who will endow the participants with their experience, knowledge and skills. Attend this workshop and let your imagination fly. Join the workshop for an amazing Virtual Reality Journey with STYLY, a leading browser-based VR creation and distribution service platform from Japan that has now extended to the entire world. A number of benefits are included with the registration such as:
Benefits for Attendees:
Understanding of New Technology
Awareness of the wonders of virtual reality
Knowledge of VR industry
How Japan is second largest VR market?
Chance to participate in the Global VR contest
Chance to participate in the exclusive Pakistan's VR content contest consisting of
cash prize up to 100K where the top creator will have a chance to visit Japan and
work for STYLY, Japan (depending on the skills)
VR developer will have a chance to distribute contents in the global platform for free
Understanding VR for global job opportunities such as at Facebook, Google and Microsoft as they are investing in billions in VR industry.
Schedule of Workshop:
15mins VR/MR/AR Technology
15mins Growth of VR Industry
10mins Unity and STYLY Introduction
10mins Break
30mins STYLY workshop
20mins VR Content view/experience (one VR space will be experienced)
Target Audience:
Bachelors, Masters, PhD Students and Faculty
Product Information and Benefits:
The Psychic VR lab is focusing on bringing global VR creator in one platform and making it easy to distribute the contents to global market like Youtube focusing on video. As Psychic VR Lab believes, there is no such platform, which supports multi-device compatibility and the creator can develop with contents without coding and distribute it with one click to the global market. The service called STYLY already got positive feedback in just two months and spoke about STYLY in world-famous events such as Unity, SVVR, Oculus, Kelidcope, and VRX. A platform from where a creator can distribute the VR contents in 2mins which normally takes 2 months with 200 – 400 USD dollars with tons of description and need to make each file for each device and submit for approval to each respective store which can be done in 2 Mins in STYLY. Come and join us to avail the best ever workshop to be conducted by KICS UET Lahore on 24 th January, 2018 at 9:30 a.m. at Seminar Hall of KICS.
Online Registration: