Computer Cell (IT Services Centre)UET Lahore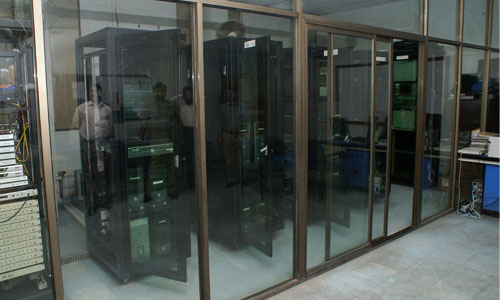 Introduction
Computer Cell was established in November 2004 with 4MB bandwidth provided by NTC PERN Project. The Computer Cell is a complete ISP setup with advance internet servers. The primary focus of Computer Cell is to provide internet facility to whole university.
The users inside the university are connected to Local LAN to get internet access while the teachers & students who reside outside the university are facilitated with dialup services for internet access. In November 2007 a high speed internet bandwidth of 16MB is provided by PTCL PERN-2 through Fiber Optics backbone, as part of the new IT Revolution. Presently all hostels & departments are connected through LAN via Fiber Optics backbone and the users outside the university is connected through dial up services.
Currently University have two internet backbone Link.
Primary Link is HEC PERN-2 is 80 Mbps. (HEC Complementary  80 Mb increased 3 Times: 3x80Mb=240Mbps )
Secondary Link is 20 Mbps.
Major focus of computer cell is to provide internet facility to all the students at hostels and departments. But by the passage of time lot of other enhancements was also made by Computer Cell. In this regard a different web related server was installed to host the UET Web Site, UET Mail server for UET mail accounts and most of the Web Development work is carried out and in progress. All the information related to admissions, examinations and date sheet is also providing online. Now Computer Cell is struggling to facilitate the whole university with wireless internet access.
The other facilities which are provided by Computer Cell are listed below:
Point to Point wireless link with Kala Shah Kaku Campus and other campuses (internet bandwidth: 50 Mbps)
DSL Service in side the University colony for Deans and Chairmen
Setup of Video conferencing at Electrical , Mechanical, Civil Departments.
Online arrangements of seminars at various Departments.
Point to Point wireless link of different Department Location.
Digital Library Facility
Wireless Lab at Electrical Department
Active role in the establishment of Gigabit Lab at KICS
490 latest Desktop Computers Core i7 have recently been purchased for all campuses
On Campus computers more than 10400
Establishment of Thin Client Lab at Electrical Department to access Digital Library including IEEE
University E-mail Service
Computer Cell is also providing mail service for the UET staff members, as well as for the students. For this respect the mail service can be access through following two methods.
Future Plans
Plan to provide wireless internet access to complete university
Point to point wireless link with Kala Shah Kaku Campus
Establishment of VOIP network between UET Lahore and Kala Shah Kaku Campus
Shifting the whole network to gigabit
Supervised by:
Dr. Waqar Mahmood
Director
[email protected]
Mr. Muhammad Iftikhar
Networks / System Specialist
[email protected]
Ph. No.+92-42-9250226-9029101, 0313-4501299
Other Staff
Network Coordinator
    Mr. Fazal Muhammad
Network Support Coordinator
    Mr. Umar Draz
    Mr. Muhammad Imran
Web Support Coordinator
Mr. Muhammad Waseem Mughal
LAN Technicians
    Mr. Athar Yaqoob
    Mr. Asif Ali
    Mr. Zeeshan Ali
    Mr. Muhammad Awais
    Mr. Muhammad Attique
    Mr. Tariq Ahmad
    Mr. Farhan Saleem