University of Engineering and Technology (UET) Lahore organized a female Kashmir solidarity walk to express solidarity with the residents of Indian Occupied Kashmir (IoK) suffering unprecedented atrocities perpetrated by Indian armed forces against them. Female Teachers, female staff members, Registrar UET Muhammad Asif, DSA Prof. Dr. Asif Ali Qaiser and large number of female students participated in the walk. The walk began with the national anthems of Pakistan and Azad Jammu and Kashmir (AJK) to show solidarity with the oppressed Kashmiris and participants were holding Pakistani flags, Kashmiri flags and banners.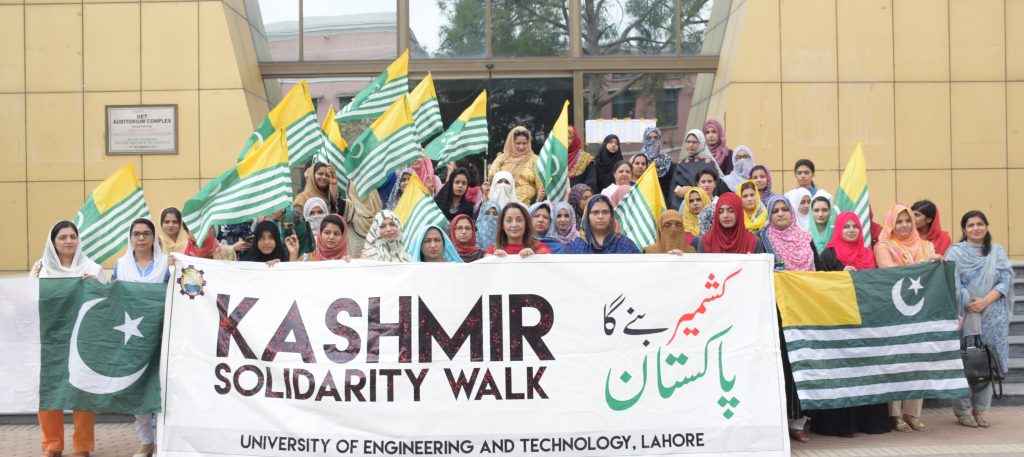 Later, Dr. Sabahat Alamgir, Dr. Rehana and Dr, Shumaila addressed the participants of walk and highlighted Kashmir issue. Addressing the participants they said, "Our Kashmiris are going through a difficult phase. We are proud of our Kashmiri mothers and sisters whose sons are sacrificing their lives in this freedom movement." They strongly condemned the incidents of rape in Kashmir. "The sun of freedom will raise in Kashmir in this context the whole world must raise voice against brutality of Indians" they added.
They further said, "The ratio of women in Pakistan is approximately 50%, so we have to play our role on every platform individually and collectively. Kashmir is our Juglar vein, we pay tribute to the determination and courage of Kashmiris." The women involved in the walk vowed to make all kinds of sacrifices for freedom of Kashmir. At the end of walk special prayers were made for the freedom of Kashmir.
UET Lahore